Ibiza is beautiful wherever you look at it. However, there is a panoramic view of the island that always attracts attention: the one we enjoy from the heights. Let anyone who has not ever asked for a window on the plane to raise their hands to be able to take a beautiful photo of the coast from the sky!
Although this is an exceptional situation, what we do have at our disposal is a good number of rooftops in Ibiza that offer you a different view of the island. Various rooftops (as they call themselves if we pay attention to trends) each one with its particularities.
In some you will find live DJ sessions or amazing sunsets. Others even have a swimming pool or offer a tempting menu full of signature cocktails and high-level cuisine.
If you do not suffer from vertigo and you also love to see the island from another perspective, write down the name of these rooftops in Ibiza.
You can click on the names to expand the information of each establishment.
EPIC INFINITY LOUNGE AT BLESS HOTEL IBIZA. CALA NOVA, SANTA EULALIA
The fantastic restaurant and sky lounge bar of Bless Hotel Ibiza It will fascinate you with its impressive views of the sea. During the season, in addition, Epic Infinity Lounge organizes different events that we strongly recommend that you do not lose sight of.
GLOW ROOFTOP OF W IBIZA. SANTA EULALIA
The Glow Rooftop of the prestigious ibiza It is one of the most tempting offers to enjoy Ibizan afternoons and nights between original signature cocktails and impressive views. Live musical sessions take place there throughout the summer, so keep an eye on their programming.
GRAVITY. TRS IBIZA HOTEL. SAINT ANTONY
Gravity is the spectacular terrace of TRS Ibiza Hotel. A balcony open to the sea decorated with elegance from which you can witness a beautiful sunset. Taking a dip in its wonderful infinity pool while enjoying a good cocktail is one of the best summer plans.
THE NINTH. HARD ROCK HOTEL IBIZA. PLAYA D'EN BOSSA, SAN JOSÉ
One of the skylounge par excellence in Ibiza is undoubtedly that of Hard Rock Hotel. It is not suitable for those who suffer from vertigo, but it is suitable for those who like an atmosphere of 10, spectacular sea views and well-made cocktails.
UP IBIZA SKY SOCIETY. THE USHUAÏA TOWER. PLAYA D'EN BOSSA, SAN JOSÉ
If you are passionate about sunsets, the sea and heights, this is your place. Located at the top of The Ushuaïa Tower, of Ushuaïa Ibiza Beach Hotel, It has an extraordinary panoramic view of the entire coastline of Playa d'en Bossa. In Up Sky Society you will be able to see how the planes pass over you and take some enviable photos.
CUBAN IBIZA. SAINT ANTONY
The roof of Cubanito Ibiza is the queen of tasty. From there you can contemplate a beautiful sunset over the sea to the rhythm of the best music. The most sensual dances and level cocktails meet here daily.
OPENING IBIZA. SAN ANTONIO
It may not be a rooftop as such, but the views from Aperture Ibiza are noteworthy. While you dance to the rhythm of musical sessions of different styles, you will be accompanied by one of the most beautiful sunsets in Ibiza: that of San Antonio Bay.
RIVER IBIZA. SAN ANTONIO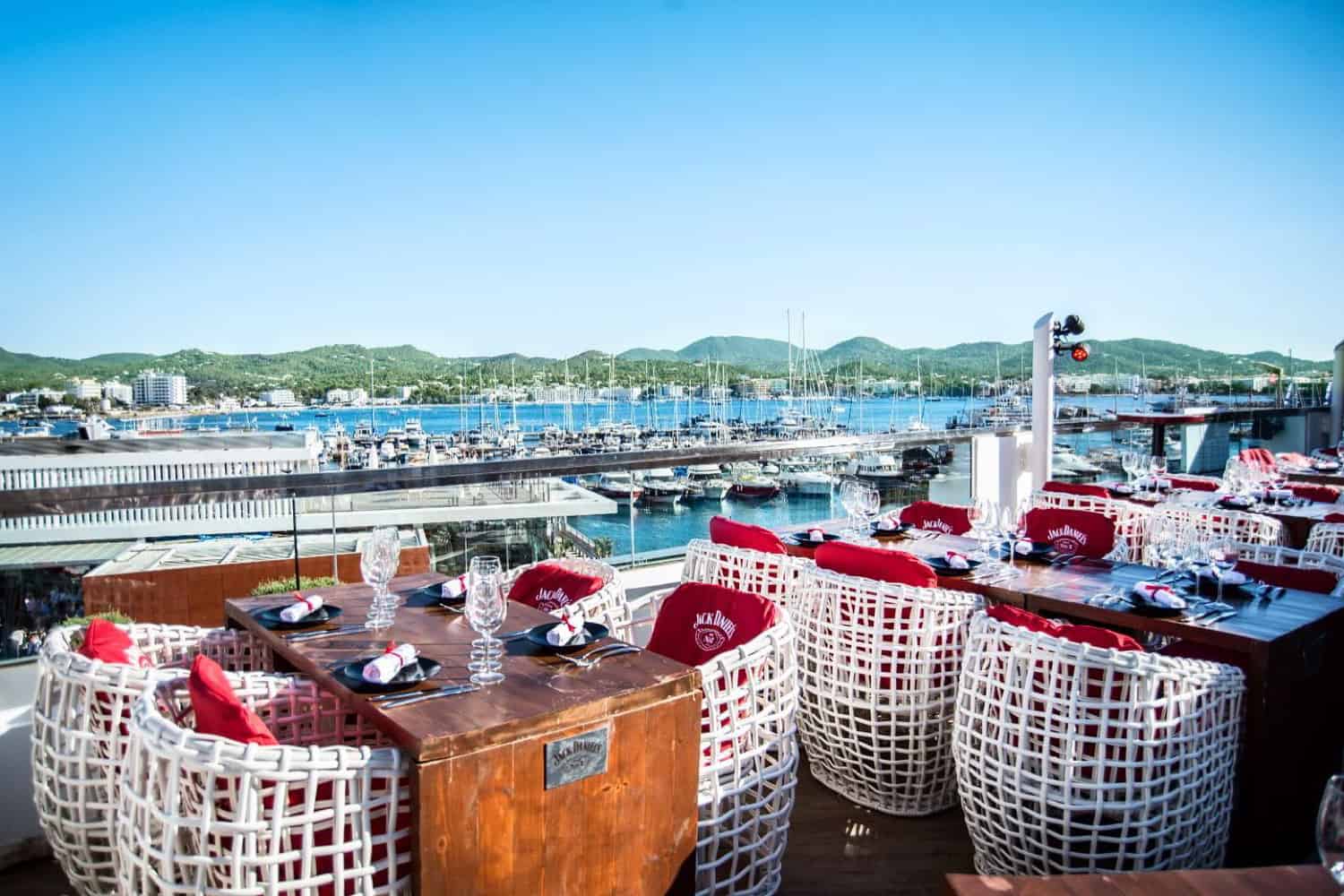 Maybe the roof of Río Ibiza It is not the highest, however it is one of those that has the best panoramic views of San Antonio. It is also the only Jack Daniel's BBQ & Rooftop Lounge in the world. Grilled meats and cocktails are one of its strong points.
OD SKY BAR. IBIZA
There is no better backdrop in Ibiza than the silhouette of Dalt Vila and, if it can be at sunset, better than better. That's what awaits you at OD Sky Bar, the rooftop of OD Talamanca. In addition, they hold different events depending on the day: dj's, live music, 'burger meets gin' ... don't miss our calendar to find out about everyone!